Holidays in South Tyrol in winter
Holidays in the Dolomites
Holidays in South Tyrol in winter
Holidays in the Dolomites
Holidays in South Tyrol in winter
Holidays in the Dolomites
Holidays in South Tyrol in winter
Holidays in the Dolomites
Holidays in South Tyrol in winter
Holidays in the Dolomites
The farm Kirschnerhof in Alta Pusteria
Farm holidays in Sesto – South Tyrol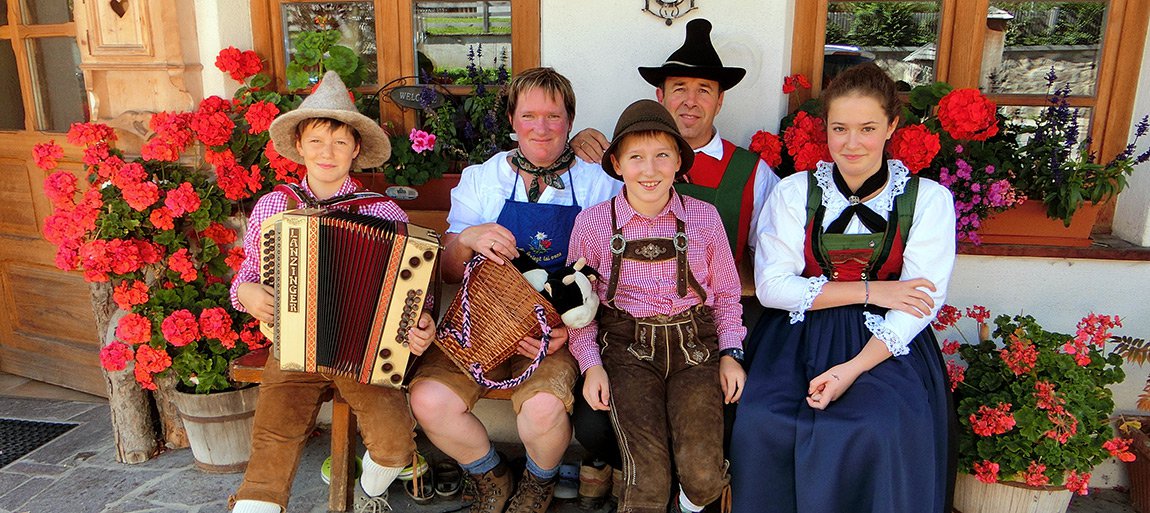 Welcome to the farm Kirschnerhof! We are a small farm – managed with great passion – in Moso, located at 1350 m above sea level. We, the Holzer Tschurtschenthaler family, would like to show you our daily farm life and offer you our genuine hospitality. Feel at home and enjoy a relaxing stay with unforgettable experiences.
We are looking forward to your visit.
The farm Kirschnerhof was destroyed in the First World War and then rebuilt with great diligence and love. Over time, the farm was expanded, renovated, and modernized – for our family and for our guests.
Our farm today offers 5 holiday apartments. This allows us to offer you a quiet and familiar ambience and to dedicate enough time and attention to our guests.
Do you have any questions about our farm Kirschnerhof and your stay here? Simply contact us! We will be happy to assist you and help you turn your holiday in Sesto into an unforgettable experience.
Farm holidays in South Tyrol
in the Sesto Dolomites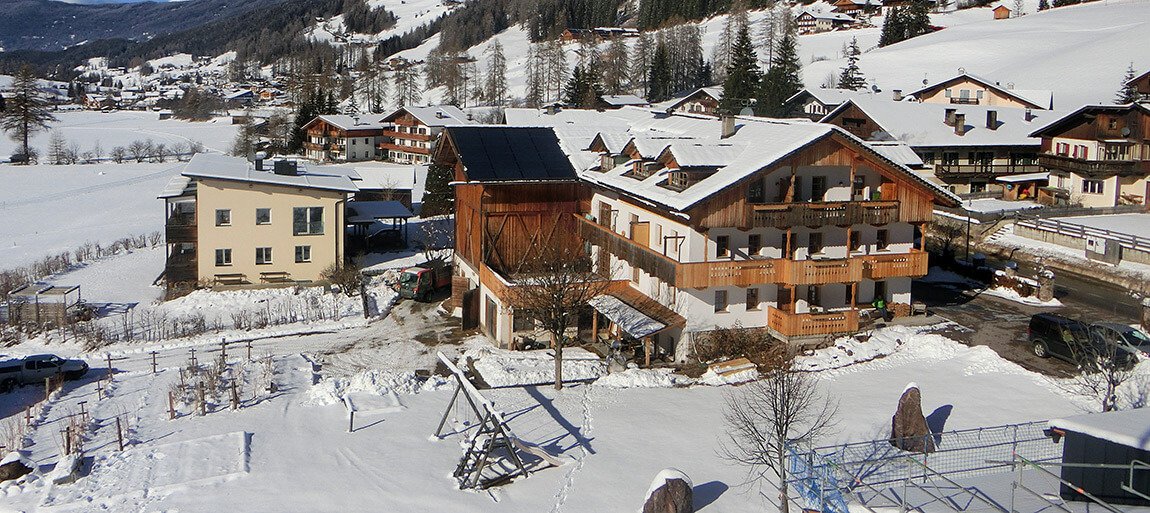 Farm holidays in the wonderful South Tyrolean landscape – with striking mountain peaks, marvellous panoramic views, and picturesque sceneries – always offer a special experience.
Enjoy the pure nature and the simply life around our farm. The farm Kirschnerhof in Sesto is the ideal starting point for all kinds of activities. Hikes, climbing tours, mountain biking or horseback excursions, as well as countless winter sports in the immediate vicinity attract many visitors to the Three Peaks region in Sesto, South Tyrol.
Not only nature lovers and outdoor fans will appreciate South Tyrol and the region around Sesto. A multitude of cultural events completes the varied range of leisure offers around the farm Kirschnerhof.
Apartments
make yourself at home
Summer mood
discover the Dolomites in South Tyrol
Winter fairy tale
magical mountains
Farm holidays
in Alta Pusteria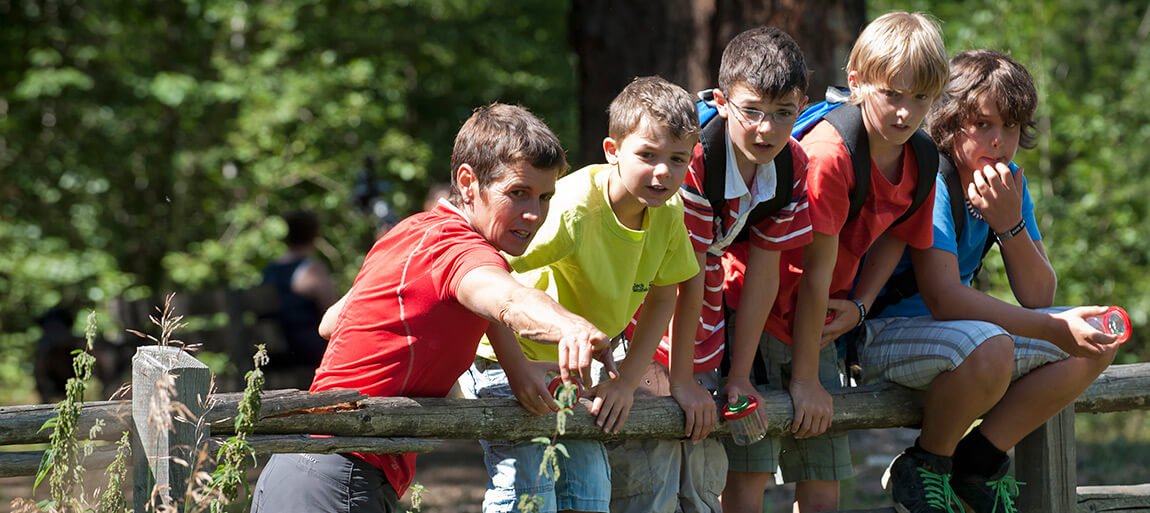 The farm Kirschnerhof is located in the region Alta Pusteria. The alpine valley in the Dolomites is particularly renowned for the rock formation "Three Peaks", one of the most famous natural landmarks in the Alps. The adjacent Fiscalina Valley is also well known. The valley borders with the district of Moso, to which our Kirschnerhof belongs. Enjoy the scenery to the fullest, and after an exciting vacation day in the fresh air come back to one of our comfortable holiday apartments.
Do you wish to experience not only nature, but also the authentic farm life? We invite you to visit our stables, assist us during milking and help to feed our animals. We have 14 dairy cows (Braunvieh – Brown Cattle) as well as some young cattle and calves, which will fascinate particularly our young guests. We deliver our milk every day to the dairy association in Sesto, which is known for excellent cheese varieties, fresh hay milk and other specialties.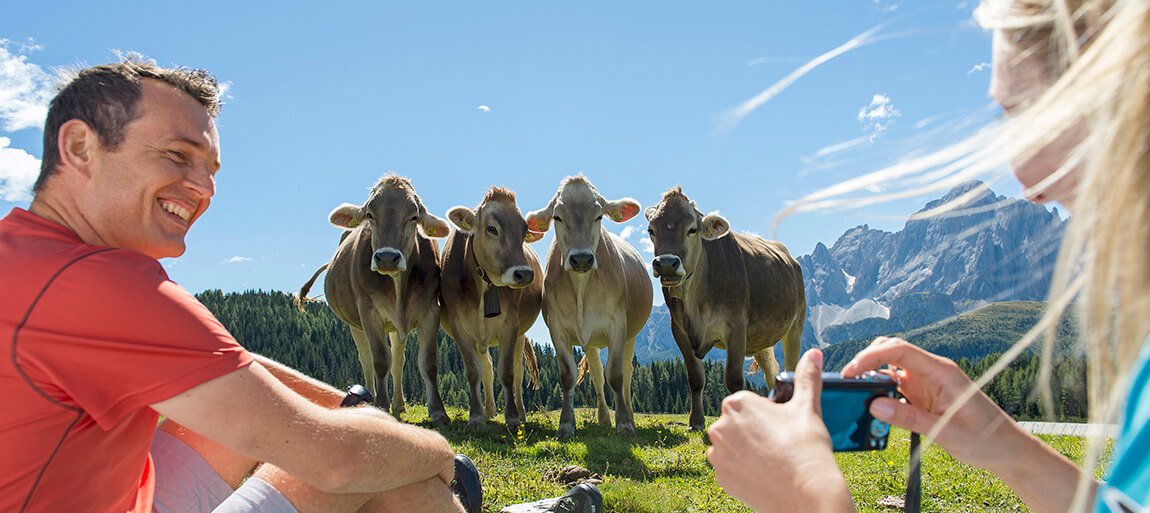 In addition to dairy farming, we also work on our mountain pastures, fields, and our forest. Get a taste of our lovely strawberries, raspberries, and currants, which grow in our garden. We use them to produce delicious homemade jams and juices. Try our products at our rich farm breakfast.
Farm breakfast in our breakfast room
and home-made products
Start your day with our delicious farmhouse breakfast!  In addition to our own fresh hay milk from our cows, coffee or tea, home-made juices, a large selection of fresh bread from our neighbour the Happacher bakery, we offer you specialities from the Sexten cheese dairy, such as sour cream butter, Sesto alpine and farmhouse cheese, fresh cheese and yoghurt. The whole thing is refined with homemade fruit spreads made from strawberries, raspberries, blueberries and apricots from our garden. Fresh eggs from our own chickens and bacon and sausages from the Villgrater butcher's shop are available on request. The farmer's wife will surprise you with homemade cakes.
You will find everything you need for a proper farmhouse breakfast. Let us spoil you and start an eventful day full of energy.
You can have breakfast in the breakfast room from 7:30 – 9:30 am.